Our office is equipped to diagnose, treat, and manage eye disease with the latest technology. Take a look below at the various tools used to make your eyesight preform at an optimum level.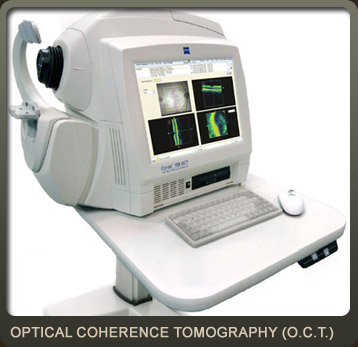 Cirrus™ OCT – (Optical Coherence Tomography)
The Cirrus OCT is a diagnostic imaging device that analyzes macular thickness and the optic nerve. The OCT enhances our ability to diagnose and manage glaucoma and retinal disease, i.e. macular degeneration, far beyond the typical eye exam.
We are extremely proud to be one of the few primary care practices to have this advanced technology.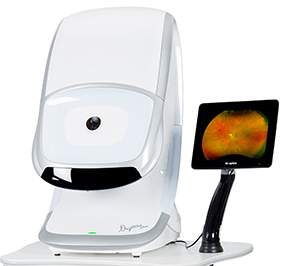 Optomap
The Optomap is a scanning laser that digitally scans the retina. The test is non-invasive and takes only seconds to complete. The image can then be filtered, allowing various layers of the retina to be evaluated. The image is then viewed on a computer monitor and stored for future comparisons.
The image can be magnified to a significantly larger degree than conventional eye instruments, thus allowing greater diagnostic capability.
Great for evaluating children who find it difficult to tolerate bright lights for extended periods of time.
Exceptional diagnostic capability when examining diabetic patients.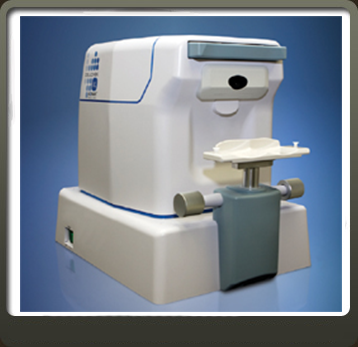 Konan Specular Biomicroscopy 
We are pleased to offer Konan Microscopy for the management of your eyecare.    It is a concise way to assess cell loss or damage due to extended contact lens wear, surgery, and the aging process unobtainable with biomicroscopy and corneal topography.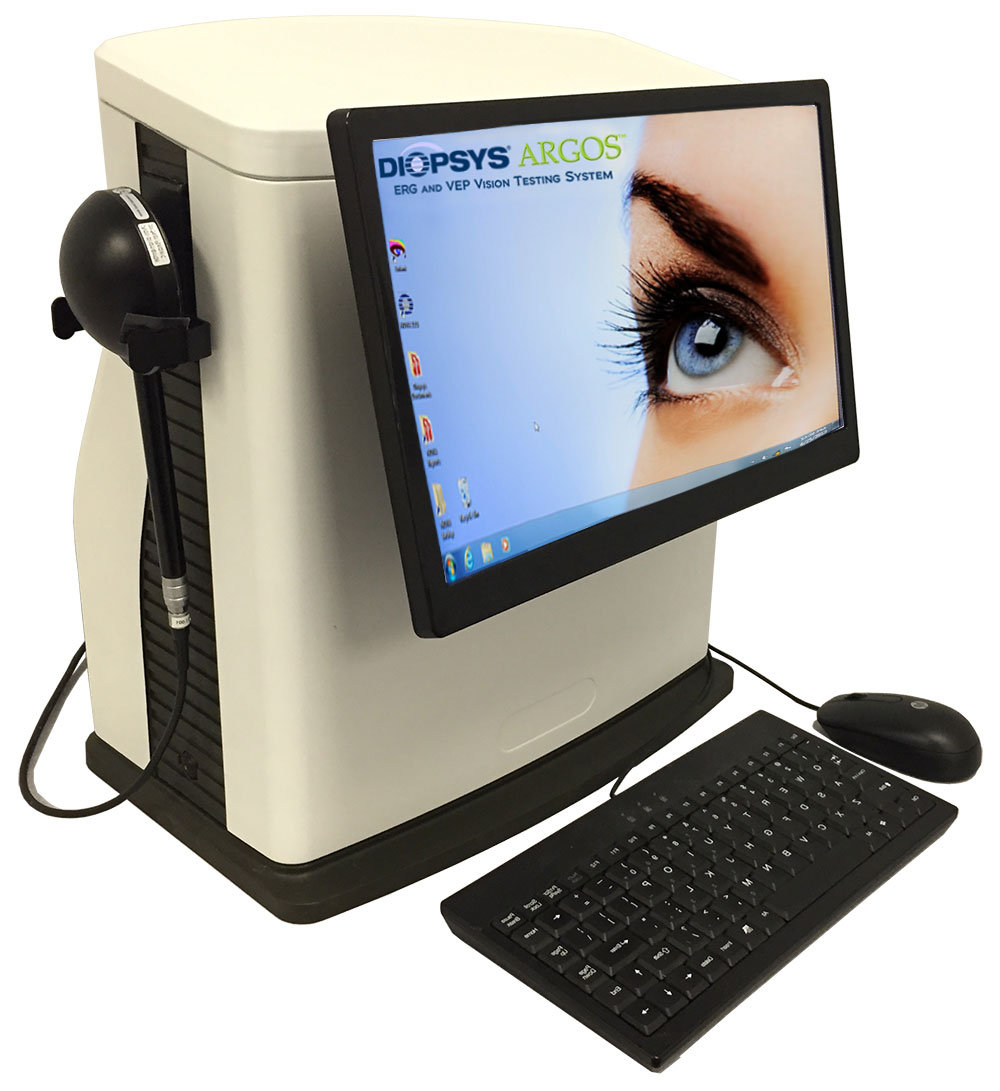 Nova Diopsys VEP/ERG
Diopsys is the leader in electroretinography (ERG) and visual evoked potential (VEP) for eye care. The company's unique, patented technology provides eye doctors with objective, functional information about the health of the vision system to aid in the early detection of vision disorders, and post-treatment tracking for enhanced patient management.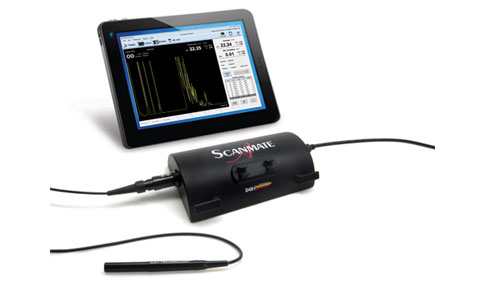 DBH 8000 B-Scan Scanmate from DGH Technology, Inc.
The DGH 8000 is a diagnostic ultrasound device used by professionals in the ophthalmic field to produce cross-sectional images of the eye and orbit. The probe is comprised of a 12 MHz, single element transducer that is mechanically oscillated to perform a 60 degree sector scan of the eye. The probe hand piece contains the electronics used to pulse the transducer as well as to measure, filter and amplify the resulting echoes from intraocular and orbital tissue.
ZeaVision's QuantifEYE®
Every person has potential risk for developing age-related eye diseases. This is even more true for those with a family history of eye disease. One of the more debilitating conditions is Age-related Macular Degeneration (AMD). Before now, there was no easy way to determine risk for this disease. By the time you notice symptoms, it's too late. The effects of Macular Degeneration are permanent and irreversible. Prevention needs to be part of your eye health regimen, and it needs to begin early.
When it comes to vision loss, don't take a "wait and see" approach!
What is Macular Degeneration?
It is a disease caused by damage to the central part of the macula, resulting in vision loss in one or both eyes.
It is the leading cause of blindness in adults, estimated to affect more than 20 million people, and that number is expected to double by 2020.
It affects your ability to read, drive, recognize faces, and it dramatically alters your quality of life.
What CAN you do?
Discuss risk factors with your doctor
You can't change heredity, but you can stop smoking and lose weight
Get a baseline test of your macular pigment optical density (MPOD) with new technology available now in this office. This test:

is quick, easy and non-invasive
requires no dilation
provides immediate results
If you test low for macular pigment, talk to your doctor about what type of intervention is right for you. Early risk assessment is vitally important to keeping your vision.
What are the Risk Factors?
Family history of macular degeneration
Smoking (even if you smoked and quit)
Low macular pigment
Having light skin and/or light eyes
Having had unprotected exposure to the sun
Being overweight
Gender – females are at more risk
Diet defi cient in foods containing zeaxanthin & lutein
Low levels of macular pigment (important photo-protectant against damaging UVA and UVB rays) are associated with increased risk.
Insurance typically covers a general eye exam. Advanced screening with new technology can take several years to gain approval for coverage. Because early risk assessment for eye diseases that can cause blindness is so important for your overall eye health, we highly recommend a baseline test. The fee is minimal, and the benefits are considerable. We are proud to make this new technology available to you at such an affordable cost.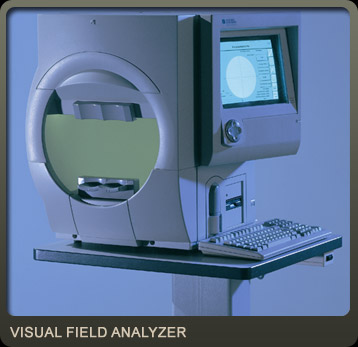 Humphrey® Field Analyzer/ 750
-The Gold Standard in Perimetry
The Gold Standard in visual field testing for conditions that can affect the patients' field of vision.
Visual field testing is an important tool in diagnosing glaucoma, neurological conditions, and tumors. It is also essential in evaluating the ocular effects of lupus, diabetes, and migraines.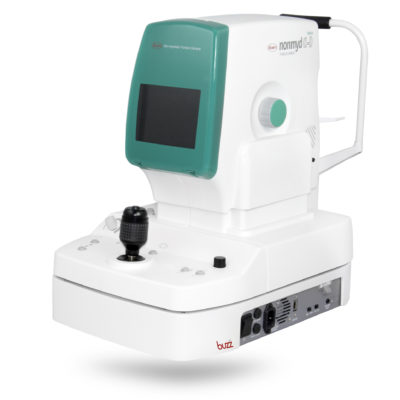 Kowa Fundus Camera
Fundus photography documents the retina, the neurosensory tissue in our eyes which translates the optical images we see into the electrical impulses our brain understands. Because fundus photography is a highly specialized form of medical imaging, it can't be done with an ordinary camera. It requires a customized camera that is mounted to a microscope with intricate lenses and mirrors. These high-powered lenses are designed so the photographer can visualize the back of the eye by focusing light through the cornea, pupil, and lens. 
Fundus photographs are visual records which document the current ophthalmoscopic appearance of a patient's retina. One picture is worth, in this instance, a thousand words in the doctor's notes. These pictures are necessary to document the health of the optic nerve, vitreous, macula, retina, and its blood vessels. They allow the doctor to further study a patient's retina, to identify retinal changes on follow-up, or to review a patient's retinal findings with a colleague.
Fundus photographs are critical in conditions like macular degeneration, glaucoma, and diabetes in order to study and monitor the subtle changes in the retina over time. Don't be surprised if your eye doctor orders photographs of the back of your eye.